The 2018 Everbright Sun Hung Kai Hong Kong Squash Open has committed to offering equal prize money for the first time, with $329,000 split equally between the men's and women's draws at the PSA World Tour Platinum event, which comes up next November 19-25.
This means that every Platinum tournament on the PSA Tour that runs a men and women's event simultaneously
These include the U.S. Open, Tournament of Champions, El Gouna International, British Open and now the Hong Kong Open, have all committed to equal prize money.
The news comes after the Professional Squash Association (PSA) released figures in July confirming that the pay gap between male and female players on the PSA Tour dropped by almost a third during the 2017/18 season compared to the 2016/17 campaign.
PSA Chief Executive Alex Gough SPEAKS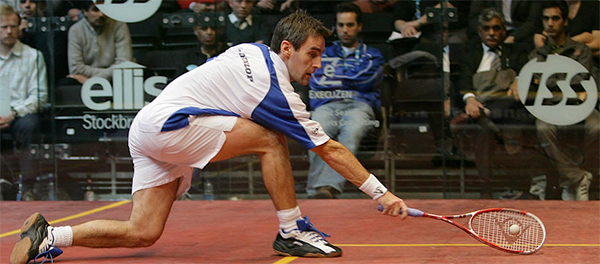 "Since merging with the Women's Squash Association (WSA) in 2015, the PSA have been committed to achieving equality in prize money and playing opportunities for our male and female athletes
''We are pleased to see that the Hong Kong Open has joined our other Platinum tournaments in offering equal prize money
"The Hong Kong Open is one of the longest-running tournaments on the PSA Tour
''We would like to thank Hong Kong Squash for their hard work in ensuring that there will be parity in earnings for the 2018 edition."
Defending champions Mohamed ElShorbagy and Nour El Sherbini will be returning to defend their titles
ElShorbagy will be getting his tournament under way against Australia's Ryan Cuskelly after receiving a bye into round two.
ElShorbagy has been drawn on the same side of the draw as three-time winner Ramy Ashour and could face his fellow Egyptian in the quarter-finals stage
He has been seeded to play World No.4 Tarek Momen in the semi-finals.
World No.2 Ali Farag is drawn on the opposite side of the draw and will have to make his way past the likes of five-time runner-up Gregory Gaultier and World No.5 Simon Rösner if he is to replicate the run of form that saw him reach the final last year.
Home favourite Max Lee first match will be against World No.6 Miguel Angel Rodriguez,
While he is joined in the draw by compatriots Leo Au, Tsz Fung Yip, Chi Him Wong and wildcard Henry Leung, who plays World No.19 Raphael Kandra in round one.
In the women's camp, defending champion Nour El Sherbini will begin her tournament against either local player Liu Tsz-Ling or Belgium's Nele Gilis in round two
El Sherbini has been seeded to meet World No.8 Sarah-Jane Perry and World No.3 Nour El Tayeb in the quarter-finals and semi-finals, respectively.
While last year's runner-up Raneem El Welily is seeded to meet 2015 runner-up Laura Massaro in the quarter-finals, she is predicted to play France's World No.4 Camille Serme in the last four.
In addition to Au and Liu, four other women from Hong Kong will play in the main draw, with Joey Chan, Tong Tsz-Wing, Vanessa Chu and Lee Ka Yi all featuring.
VENUES FOR THE TOURNAMNET
The tournament will be held at the Hong Kong Squash Centre between November 19-22 before moving to the glass court erected at the Hong Kong Park Sports Centre between November 23-25.
In addition to the prize money, a place at the PSA World Tour Finals is also on-offer, with the winners of the tournament earning a coveted berth at the season-ending event.
2018 Everbright Sun Hung Kai Hong Kong Squash Open.
Men's Draw:
[1] Mohamed ElShorbagy (EGY) [bye]
[9/16] Ryan Cuskelly (AUS) [bye]
[17/32] Alan Clyne (SCO) v Campbell Grayson (NZL)
Omar Abdel Meguid (EGY) v [17/32] Tom Richards (ENG)
[17/32] Joel Makin (WAL) v [WC] Chi Him Wong (HKG)
[9/16] Ramy Ashour (EGY) [bye]
[17/32] Leo Au (HKG) v Nafiizwan Adnan (MAS)
[7] Paul Coll (NZL) [bye]
[8] Mohamed Abouelghar (EGY) [bye]
[WC] Henry Leung (HKG) v [17/32] Raphael Kandra (GER)
[17/32] Mathieu Castagnet (FRA) v Ben Coleman (ENG)
Joshua Masters (ENG) v [17/32] Chris Simpson (ENG)
[9/16] Karim Abdel Gawad (EGY) [bye]
[17/32] Cesar Salazar (MEX) v Todd Harrity (USA)
[17/32] Cameron Pilley (AUS) v Rex Hedrick (AUS)
[3] Tarek Momen (EGY) [bye]
[4] Simon Rösner (GER) [bye]
Peter Creed (WAL) v [17/32] Adrian Waller (ENG)
[9/16] Nicolas Mueller (SUI) [bye]
[9/16] Omar Mosaad (EGY) [bye]
[17/32] Zahed Salem (EGY) v Karim El Hammamy (EGY)
Eain Yow Ng (MAS) v [17/32] Greg Lobban (SCO)
[9/16] Max Lee (HKG) [bye]
[5] Miguel Angel Rodriguez (COL) [bye]
[6] Gregory Gaultier (FRA) [bye]
Nathan Lake (ENG) v [17/32] Lucas Serme (FRA)
[17/32] Tsz Fung Yip (HKG) v Olli Tuominen (FIN)
George Parker (ENG) v [17/32] Declan James (ENG)
[9/16] Saurav Ghosal (IND) [bye]
[9/16] Diego Elias (PER) [bye]
[17/32] Gregoire Marche (FRA) v Arturo Salazar (MEX)
[2] Ali Farag (EGY) [bye]
Women's Draw:
[1] Nour El Sherbini (EGY) [bye]
Liu Tsz-Ling (HKG) v [17/32] Nele Gilis (BEL)
[17/32] Amanda Sobhy (USA) v Amanda Landers-Murphy (NZL)
[10] Annie Au (HKG) [bye]
[12] Tesni Evans (WAL) [bye]
Julianne Courtice (ENG) v [17/32] Mariam Metwally (EGY)
[17/32] Zeina Mickawy (EGY) v Low Wee Wern (MAS)
[8] Sarah-Jane Perry (ENG) [bye]
[5] Joelle King (NZL) [bye]
Milou van der Heijden (NED) v [17/32] Mayar Hany (EGY)
[17/32] Hania El Hammamy (EGY) v Sivasangari Subramaniam (MAS)
[16] Olivia Blatchford (USA) [bye]
[14] Joshna Chinappa (IND) [bye]
[WC] Lee Ka Yi (HKG) v [17/32] Dipika Pallikal Karthik (IND)
[17/32] Fiona Moverley (ENG) v Tong Tsz-Wing (HKG)
[3] Nour El Tayeb (EGY) [bye]
[4] Camille Serme (FRA) [bye]
Tinne Gilis (BEL) v [17/32] Rachael Grinham (NED)
[17/32] Millie Tomlinson (ENG) v Nada Abbas (EGY)
[11] Nicol David (MAS) [bye]
[9] Alison Waters (ENG) [bye]
Danielle Letourneau (CAN) v [17/32] Nadine Shahin (EGY)
[17/32] Emily Whitlock (ENG) v [WC] Vanessa Chu (HKG)
[7] Nouran Gohar (EGY) [bye]
[6] Laura Massaro (ENG) [bye]
Haley Mendez (USA) v [17/32] Yathreb Adel (EGY)
[17/32] Joey Chan (HKG) v Alexandra Fuller (RSA)
[15] Salma Hany (EGY) [bye]
[13] Victoria Lust (ENG) [bye]
Hollie Naughton (CAN) v [17/32] Coline Aumard (FRA)
[17/32] Rowan Elaraby (EGY) v Rachel Arnold (MAS)
[2] Raneem El Welily (EGY) [bye]