A new Oracle Champion has emerged at the end 2018 Oracle Netsuit Open, a PSA World Tour Gold event which took place in San Francisco.
The event can only be described as a sublime performance from start to finish, saw Egypt's World No.2 Ali Farag defeat 2017 tournament champion and World No.1 Mohamed ElShorbagy in the final of the 2018 Oracle NetSuite Open to claim his first major title in nine months on a dramatic evening of play.
In the same vein, England's Sarah-Jane Perry stun World Champion Raneem El Welily to retain the title she won 12 months ago.
Farag, who lost four of five meetings with ElShorbagy during the 2017/18 campaign, underlined his intention to challenge his compatriot for the coveted World No.1 ranking spot this season with a clinical display that saw him nullify ElShorbagy's power and pace to prevail an 11-9, 13-11, 4-11, 11-9 winner.
There was little to separate the pair as they battled it out for 64 minutes of spell binding action on San Francisco's Embarcadero,
Trading points stroke for stroke during a series of physically punishing rallies to the delight of the crowd.
Eventually, Farag showed strength, taking the lead quickly, using his relaxed attacking style to edge a tight opening game, before doubling the lead courtesy of a dramatic second-game tie-break.
ElShorbagy exhibited tact in the third game before Farag once again enjoyed the better of the exchanges in the fourth round to win his first tournament since Swedish Open in February.
FARAG REACTS
"I'm feeling great right now, I'm very, very happy to have won this title
"When I first saw the entry list, I thought I would withdraw from playing because the draw was so strong
''But my mentor Karim Darwish told me that I should play the event and show people that they should be scared when seeing my name in the draw
''That is the kind of mentality that I need to have if I hope to be World No.1 someday
"I wasn't at my best last night (against Gaultier) but I was optimistic that I would play at a higher-level tonight because sometimes, you need matches like that to help get you into the rhythm
"Tonight, against Mohamed, I had to be on my mettle throughout. He's a great champion and such a determined fighter
''Which he showed even when I was ahead in the fourth game, so I'm very glad I managed to get the last few points
"Last season I got off to a strong start, but I couldn't carry it through until the end of the season
''I was maybe mentally tired towards the end of the year so I'm trying to learn from that experience and be more consistent this season
''Now I'm really looking forward to going to the U.S Open to defend that title next week
"Winning there with Nour last year has been the highlight of my career, so hopefully, we can do it again this time."
ELSHORBAGY REACTS
"He played great tonight. He's been the best player here all week. But it's a long season so hopefully I can get back at him at an event coming up."
Perry power show brings second title against world champion
After storming through the women's draw to book a place in the final without dropping a game,
Twenty-nine-29-year-old World No.2, Raneem Elwelily, picked up where she left off during the opening exchanges of the women's final
As she raced into an early 6-1 lead to set up what looked certain to be a comfortable opening first game.
Sarah-Jean Peery, World No.8 came around to accepting the challenge, finding her own lethal streak midway through to swing the game on its head and take the opener 11-9 against the run of play.
Perry continued to enjoy a purple patch as she dominated the second to double her advantage, leaving El Welily searching for a way to stop the onslaught.
However, the Egyptian world champion responded in kind, lifting her level once again to engage Perry in rally after rally of physically testing and tactically probing squash.
With the finishing line in sight at 9-7 to Perry, a series of errors from the racket of the English woman gifted El Welily a reprieve,
Taking full advantage to gain a lifeline on the scoreboard before taking the fourth in just eight minutes to level the scores.
The crucial fifth and final game began with a series of cat-and-mouse exchanges with little to separate them but from 4-4 Perry turned the screw to set up match ball at 10-4.
A series of sumptuous winners saw El Welily threaten to extend the match into a tiebreak, but Perry finally sealed the match, and her second Oracle NetSuite Open title, 11-9, 11-7, 9-11, 7-11, 11-7.
SARAH-JEAN PERRY REACTS
I'm speechless, She was making me work so hard and any time there was even a slight chance she was punishing me
"I had to play as clever as I have ever done before and I was absolutely knackered in that fifth game but I just forced myself to keep pushing
''I knew I was playing well and that I didn't have to chance much tactically, I just had to execute
"But even at 10-4 up she was coming back and she hit some fantastic shots to get it back to 10-7 so there was a lot of relief at the end alongside the elation
"I dedicated the win here last year to my Nan (who passed away shortly before the event)
''My mum said she'd be looking down watching over me tonight as well so this one is definitely for her again."
RANEEM EL WELILY REACTS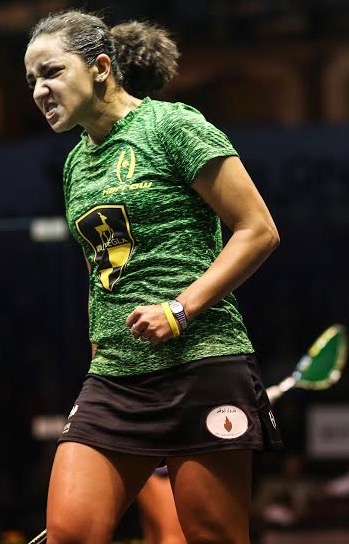 "Obviously I'm disappointed to lose tonight but Sarah-Jane played very well and deserved the win."