World No.1 Mohamed ElShorbagy took a step closer to the final after he defeated Indian No.1 Saurav Ghosal in an entertaining 51-minute battle.
El Shorbagy, who fell to Farag in last year's final, dropped just five points in the opening game but was tested by a resurgent Ghosal in the next two games and required a tie-break victory in the second, before he edged the third to complete the win by an 11-5, 16-14, 11-9 score line.
MOHAMED EL SHORBAGY REACTS
"With Saurav it's always a tough match, our matches are always very tight and very difficult
''He always knows how to move me around the court, so I knew from the first point that I had to be sharp and on my toes
''I'm really happy with how I won that crucial second game. In the third game he made a comeback and I'm just glad that I closed it out in the end."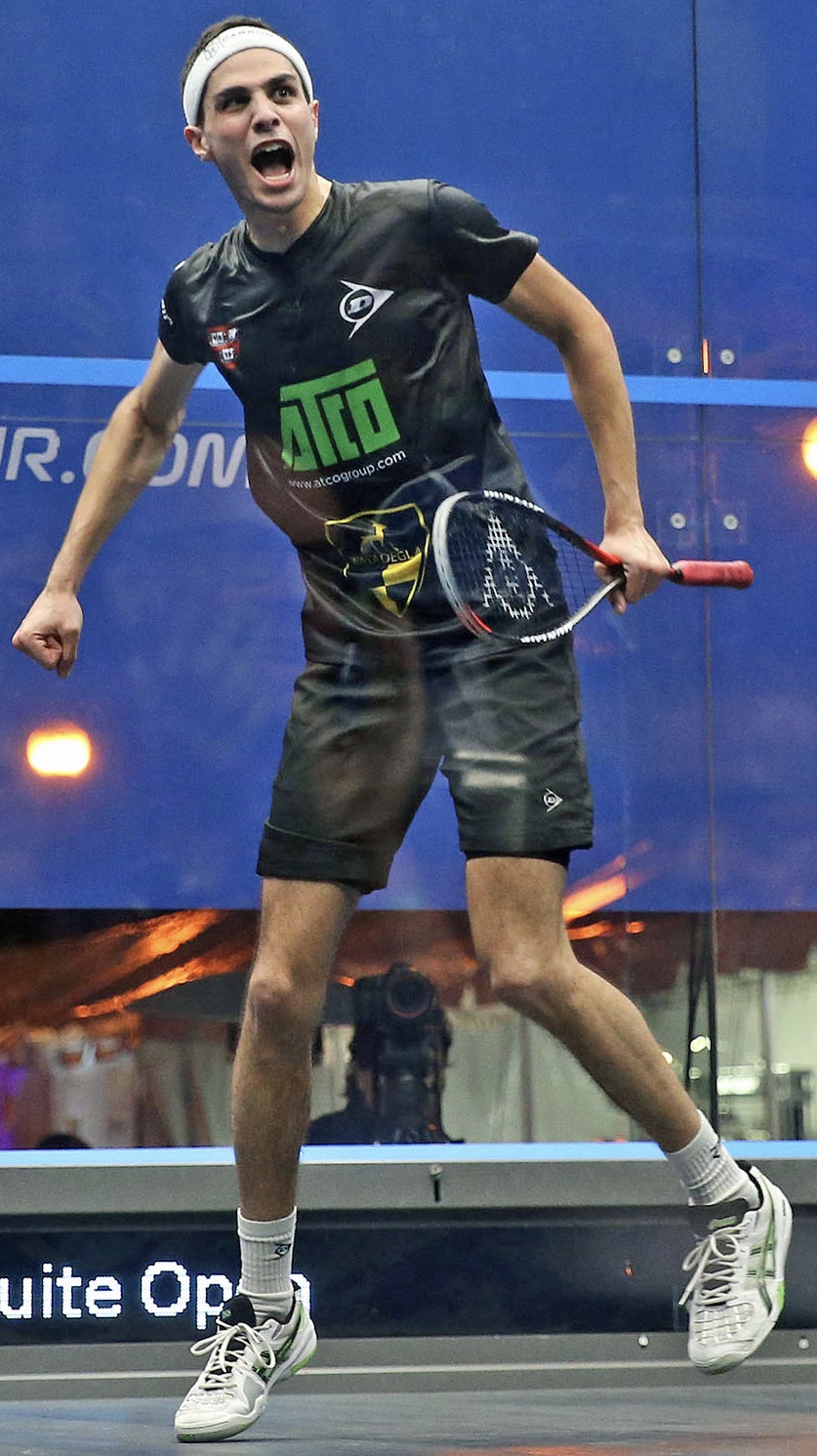 The in-form Mohamed Abouelghar stands between ElShorbagy and a place in an eighth successive PSA Tour semi-final
This is coming after a sublime performance from the World No.9 saw him down fellow Egyptian Karim Abdel Gawad in straight games.
Abouelghar has started the season brilliantly, winning his biggest PSA Tour title last month at the J.P. Morgan China Open
Dismantlng 2016 World Champion Gawad, claiming an 11-8, 11-9, 12-10 margin to earn his place in the last eight.
MOHAMED ABOUELGHAR REACTS
"I had a disappointing second-half last season, I knew a change had to be made and luckily it has worked out sooner than expected
''I would say that was my finest performance today and I had to be at my best to beat someone like Karim."
Elsewhere, World No.4 Tarek Momen and World No.8 Paul Coll claimed wins against England's Declan James and Egypt's Omar Mosaad, respectively, and they will go head-to-head in the quarter-finals.
Third round action continues today at 12:00 local time (GMT-4) on Tuesday October 9 and all matches will be broadcast live on.
2018 FS Investments U.S. Open Squash Championships, Drexel University, Philadelphia, USA.
Men's Third Round (Top Half):
[1] Mohamed ElShorbagy (EGY) bt Saurav Ghosal (IND) 3-0: 11-5, 16-14, 11-9 (51m)
Mohamed Abouelghar (EGY) bt [7] Karim Abdel Gawad (EGY) 3-0: 11-8, 11-9, 12-10 (43m)
[8] Paul Coll (NZL) bt Omar Mosaad (EGY) 3-0: 11-6, 11-4, 11-1 (34m)
[3] Tarek Momen (EGY) bt Declan James (ENG) 3-1: 5-11, 11-6, 11-4, 11-6 (40m)
Bottom Half (To Be Played October 9):
[4] Simon Rösner (GER) v George Parker (ENG)
Cesar Salazar (MEX) v [5] Miguel Angel Rodriguez (COL)
[6] Gregory Gaultier (FRA) v Zahed Salem (EGY)
Joel Makin (WAL) v [2] Ali Farag (EGY)
Men's Quarter-Finals (Top Half) To Be Played October 10:
[1] Mohamed ElShorbagy (EGY) v Mohamed Abouelghar (EGY)
[8] Paul Coll (NZL) v [3] Tarek Momen (EGY)