The CIB PSA World Tour Finals action which kicked off yesterday, is the first six matches of the tournament take place at the Mall of Arabia in Cairo, Egypt.
Egypt's World No.1 Raneem El Welily and Wales' World No.9 Tesni Evans were the first to kick off the day's action in the first match of the day.
Followed by Egypt's World No.2 and defending men's champion Mohamed ElShorbagy who faced Peruvian Puma Diego Elias.
POINTS ACCUMULATION
Players competing at the World Tour Finals will compete in group stages, which are held under a best-of-three games format,
With the top two from each group progressing to the knockout semi-finals and beyond.
Points are on offer for all results in group matches, apart from a 2-0 loss. If a player loses 2-1, they get one point.
If a player wins their match 2-1, they would receive three points, and if they win in straight games 2-0, they get the full four points.
Egypt's World No.2 and defending champion Mohamed ElShorbagy was pushed all the way in a high-octane battle in Cairo as he overcame Peruvian Puma Diego Elias by a 6-11, 11-3, 17-15 score line in 63 minutes.
The two-players went toe-to-toe in a thrilling round one battle which saw both of them showcase their best attributes and delight the crowd inside the venue at the Mall of Arabia.
A strong start from Peru's Elias, who has already defeated ElShorbagy once earlier on this season at the Qatar Classic, saw him take the first game before the Egyptian roared back to equalise.
Elias got his focus back in the third to edge ahead and hold three match balls, however, ElShorbagy battled back each time to save all three and push the match to a tense tie-break situation.
The two players continued to go back and forth with some impressive rallies pushing both players to their limits, but Elias kept his focus to once again edge in front to hold his fourth match ball.
A resilient ElShorbagy, who has won the PSA World Tour Finals title the past two years, was not going away though as he saved another match ball from the Peruvian.
It was then ElShorbagy's turn to get his chance to take the match, however, Elias did not go down without a fight either as he saved four match balls from the British Open champion before ElShorbagy was able to convert on his fifth attempt.
MOHAMED EL SHORBAGY SPEAKS
"We both had a lot of match balls. matches like this, every time we play each other it always goes down to the wire,
''He's a great player and I always say that he is going to beat us all one day and I'm going to try and make it as late as possible,
''But one day he is a future World No.1 and a future World Champion,
"He has everything to not just be World No.1 one day, but also be a great ambassador for our sport and I have had huge respect for him since he was a junior,
''I love his game and the way he plays, he makes it look so easy, while I make it look so hard,
''I'm happy to play in a high-quality match and I look forward to another match with him,
"The crowd was amazing and it's great that it's fully packed from the first day. Any tournament in Egypt is always fully packed and it's great for our sport and I'm happy to be playing in front of everyone."
Result:
[2] Mohamed ElShorbagy (EGY) bt [7] Diego Elias (PER) 2-1: 6-11, 11-3, 17-15 (63m)
Other matches, Egypt's Tarek Momen also shined through after he came from one game down to defeat Germany's Simon Rösner in round one of the PSA World Tour Finals.
The head-to-head record was tight between the two players with the tall German leading 5-4,
However, Momen did claim the last meeting between the pair at the El Gouna International earlier this year and it was the Egyptian who reigned victorious on home soil in this meeting.
World No.3, who has been out of action lately with a hamstring injury, demonstarted that he was back to full fitness as he came from a game down to take three points against Rösner.
The German took the first game due to a malfunction with Momen's racket, Momen however replaced the racket and came back in full force and level the scores for the loss of just three points.
The third and final game proved to be a tight affair with both players playing good squash, however,
Momen claim the victory to close out on 6-11, 11-3, 11-8 in 44 minutes.
MOMEN TAREK SPEAKS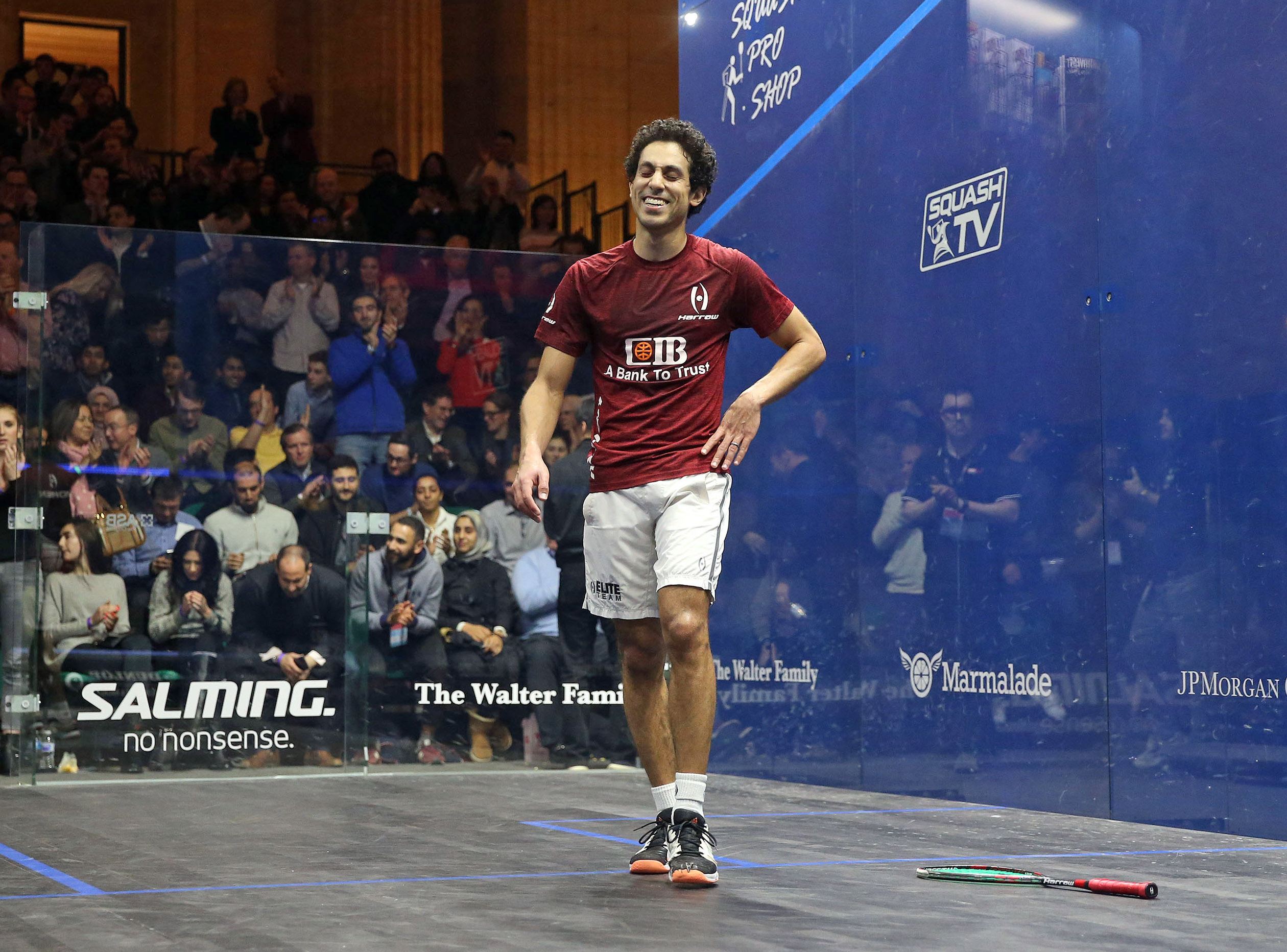 The thirty-one-year-old says; "It's always really tough against Simon, If you see the head-to-head it is really close and tight,
'' I actually came into this tournament with no expectations. I took some time off to sort a minor injury and I'm in good shape now,
''With practice, Ramadan and all the players were at the British Open, so I had no players to train with, so I didn't have much match practice,
''Coming here I knew I could play well, but at the same time I could have my phases and I was really afraid this might happen but the way I handled it just proved to me that there is an improvement for me this season,
"It's not something we're used to; we usually play indoors and it is air conditioned – it's nothing like this,
''But I had my share in El Gouna against Ali [Farag] and I think I had to kick out at least 200 roaches and moths,
''So, I have experience in that department and today I just dealt with it. The more you play in these conditions the more you get used to it.
"The crowd has been amazing; it is only the first day and the crowd is packed. I'm really appreciative of the people who show support and come every day."
Result:
[3] Tarek Momen (EGY) bt [6] Simon Rösner (GER) 2-1: 6-11, 11-3, 11-8 (44m)
Egypt's World No.1 Ali Farag saw his PSA World Tour Finals campaign get off to a winning start as he overcame compatriot Mohamed Abouelghar in two-games.
The head-to-head between the two players is level, with each claiming one win over the other this season.
However, it was Farag who reigned victorious on this occasion with a strong performance in his home country.
Reigning World Champion Farag started strongly before Abouelghar rattled off seven points in succession to hold two game balls.
Farag who was able to come back though to convert at his first opportunity to take a tough first game.
The momentum completely shifted at the start of the second as Abouelghar powered into the lead, but this time it was Farag who fought his way back to close out by a 12-10, 11-9 score line and claim all four points on offer.
ALI FARAG SPEAKS
"It's the exact same as the first two games of the British Open, One was leading and the other is catching up and then it goes the other way,
''But thankfully it's been going my way so far so I can't complain, I'm sorry if the referee ever thought we were overdoing it [getting the court wiped]
''But it is really dangerous to keep going and me and Mohamed both agreed on it. No-one really wanted to rest but it's humid and you can see all the water droplets on the floor,
''I think even with that we still played a high-quality match and the conditions are difficult to deal with. Thank you to everyone who stayed to watch us,
"I'm still learning a lot about myself. Coming into this tournament I knew I needed a bit of a rest and I didn't need to train anymore as it has been a long season and I had to be smart with my head and body,
''I took a couple of days off by the beach and did some exercises away from squash which was needed, and I think that made me sharp ahead of this tournament,
"Whenever Nour [wife El Tayeb] is playing is never relaxing, you know how it is for the two of us!
''It's even more intense when you're sitting outside rather than playing, but I will have a hit in the morning and get the body going, then have the clinic with the juniors and then watch Nour."
Result:
[1] Ali Farag (EGY) bt [8] Mohamed Abouelghar (EGY) 2-0: 12-10, 11-9 (39m)
Watch watch below:
We will bring you updates as the matches proceed.