Defending women's champion Nour El Sherbini overcame United States No.1 Amanda Sobhy in a tight four game victory to secure her place in the quarter-finals of the Everbright Sun Hung Kai Hong Kong Open, PSA World Tour Platinum tournament yesterday.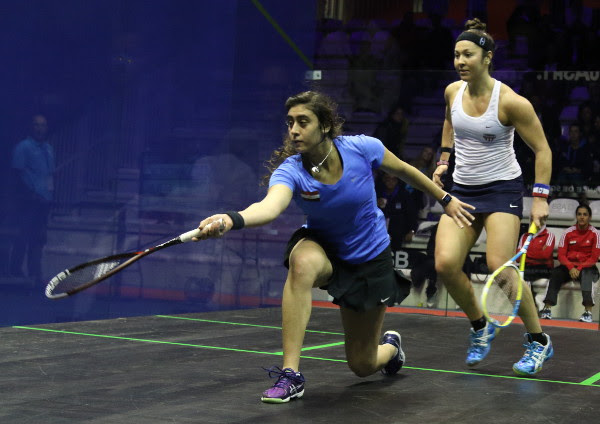 El Sherbini who stand to lose the coveted World No.1 spot to compatriot Raneem El Welily if the she fails to win this tournament
Determine to hold firm to the position, Nour came out firing as she swiftly took a two-game lead, only to see a resurgent Sobhy come back in the third game to halve the deficit.
The American World No.13 did not relent as she mounted pressure as she went two game balls up in the fourth game
She, unfortunately, was unable to convert as El Sherbini came back to force a tie-break, before an error from Sobhy handed the win to the Egyptian.
NOUR EL SHERBINI REACTS
"Amanda was top 10 and then she had her injury, but she's back and playing so well, I'm sure she will be back there very soon
"It's a very tough draw for me to play face her in the second round, it's very early but I just tried to be focused from the start and had a good plan
"She came back very strong. In the fourth I had match ball and she had a couple of game balls, so I had to be strong mentally to finish the match
''I think I played well and I'm excited to move to the other court."
El Sherbini will be facing World No.6 Sarah-Jane Perry for a place in the last four after the Englishwoman mounted a superb comeback from two games down against in-form Welsh player Tesni Evans.
Perry won the crucial third game and then took control against a tiring opponent to win 7-11, 15-17, 11-8, 11-3, 11-4 in 78 minutes, the longest match of the day.
World No.2 Raneem El Welily has booked her place in the quarter-finals courtesy of a 3-1 triumph against England's Victoria Lust from a game behind to win to set up a fixture with home favourite Joey Chan in the next round.
RANEEM EL WELILY REACTS
"I remember playing Joey here a few years ago and it was very close and a very good match
''I'm looking forward to playing her again tomorrow and she must be playing really well this week
''It's always nice to have a crowd whether they are with you or against you. We have played many times in Egypt when the crowd is on our side
''So it's only fair that we play in other locations. The crowd here is really fair and they all like a good match."
Chan's victory over Yathreb Adel ensures that she will be the only player from Hong Kong to move through to the quarter-finals, while World No.3 Nour El Tayeb defeated India's Joshna Chinappa.
World No.4 Camille Serme and Egypt's Nouran Gohar were the other victors in the women's draw. Serme ended the run of England's Millie Tomlinson – who sent 10-time winner Nicol David crashing out yesterday – while Gohar got the better of World No.11 Alison Water.
Women's Third Round:
[1] Nour El Sherbini (EGY) bt Amanda Sobhy (USA) 3-1: 11-6, 11-6, 11-13, 13-11 (44m)
[8] Sarah-Jane Perry (ENG) bt [12] Tesni Evans (WAL) 3-2: 7-11, 15-17, 11-8, 11-3, 11-4 (78m)
[5] Joelle King (NZL) bt Hania El Hammamy (EGY) 3-1: 11-8, 7-11, 11-7, 11-3 (41m)
[3] Nour El Tayeb (EGY) bt [14] Joshna Chinappa (IND) 3-1: 11-6, 11-4, 10-12, 11-8 (41m)
[4] Camille Serme (FRA) bt Millie Tomlinson (ENG) 3-0: 11-7, 11-5, 11-8 (32m)
[7] Nouran Gohar (EGY) bt [9] Alison Waters (ENG) 3-0: 14-12, 12-10, 11-8 (37m)
Joey Chan (HKG) bt Yathreb Adel (EGY) 3-1: 11-2, 8-11, 11-8, 11-8 (34m)
[2] Raneem El Welily (EGY) bt [13] Victoria Lust (ENG) 3-1: 10-12, 11-4, 11-7, 11-5 (37m)
Quarter-Finals (November 23):
[1] Nour El Sherbini (EGY) v [8] Sarah-Jane Perry (ENG)
[5] Joelle King (NZL) v [3] Nour El Tayeb (EGY)
[4] Camille Serme (FRA) v [7] Nouran Gohar (EGY)
Joey Chan (HKG) v [2] Raneem El Welily (EGY)